LUSTRE Pure Light Technology
Now you can treat your spots and acne at home with LUSTRE Pure Light Solo.
Using blue light technology, this truly transformational product works by killing the bacteria that causes acne, naturally. The unique blue light treatment endorsed by leading UK skin clinics is a proven technology. Solo's flexible design fits closely to the targeted area on the skin and directs the blue light right where it needs to go.
The device is hands free and is worn for just 20 minutes a day with visible improvements seen from just 2 weeks. The device can be also used as an outbreak management device throughout the year helping to take control of acne.
It is easy to use and travel with, charges via a USB cable and can be applied directly to the affected area whilst you get on with your life.
LUSTRE Pure Light Solo is available to buy at Temple Clinic. Please ask at reception for more details.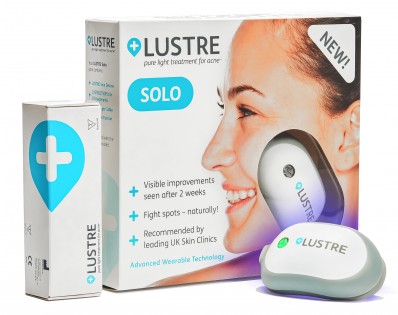 Can LUSTRE be used on other parts of the body, i.e. the back and chest?
LUSTRE Pure Light is the only hands free blue light device that allows customers to treat separate parts of the body.
Will LUSTRE Pure Light Technology cause any UV damage to my skin?
No, LUSTRE Pure Light Technology delivers therapeutic safe natural blue light at a wavelength of 415 nm. This is not in the UV spectrum of the natural light wavelength. In clinical trials of blue light at 415 nm, there have been no reported incidences of UV skin damage.
I have sensitive skin, can I use LUSTRE Pure Light?
· Do you consider that you have sensitive or delicate skin?
· Do you bruise easily?
If you answer yes to one or both of the above questions then a test of the adhesion can be made by applying a strip to your inner forearm, just before the elbow. The strip should be left in place for at least 10 minutes before being removed. If there is any pigmentation or redness exhibited then a small amount of E45 moisturising cream should be applied directly to the skin immediately before application of the adhesive strips. The exact amount of cream required is dependent upon the need to reduce the adhesion. In ALL cases the white cream should NOT be visible on the skin when the strips is applied to the skin. If cream is visible then the light will not be able to reach the skin and perform an effective treatment.