Skin Lesion Removal: The Hyfrecator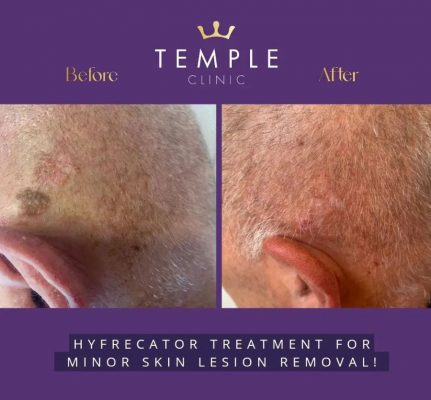 We're delighted to announce a groundbreaking addition to our range of aesthetic treatments at Temple Clinic: the Hyfrecator. This state-of-the-art electrosurgical device offers a safe and highly effective method for removing a variety of skin lesions.
How Does the Hyfrecator Work?
The Hyfrecator utilises a controlled electrical current to selectively heat and destroy target tissue. This low-powered device is remarkably efficient at eliminating skin tags and sun spots (seborrheic keratosis), and many other types of skin blemishes. The suitability of your skin lesions would be discussed at your initial consultation.
What Makes the Hyfrecator Stand Out?

Safety: The precision of the Hyfrecator ensures that only the designated area is treated, reducing the risk of damage to surrounding tissue.
Minimal Discomfort: Many patients find the treatment tolerable without the need for anaesthesia, although a local anaesthetic can be used if necessary.
Quick Procedure: Each procedure usually takes just a few minutes, per area, allowing you to fit your appointment into your busy schedule easily.
Limited Downtime: Recovery is generally swift, with minimal side effects such as temporary redness or swelling.
Highly Effective: This method is particularly well-suited for the removal of various skin lesions that are often resistant to other treatment options.
Who is it For?
The Hyfrecator is an excellent option for anyone looking to get rid of skin blemishes that may have been bothering them for years. Whether these are hereditary or caused by sun exposure or ageing, the Hyfrecator can offer a quick and efficient solution.
Consultation and Next Steps
We offer a consultation with our qualified practitioners to determine if the Hyfrecator is the right treatment for you. This consultation includes a skin assessment and discussion about your specific needs and expectations. At this appointment you will be advised on price and the likely number of treatment sessions required.
Ready for flawless skin?
Book your appointment at Temple Clinic today to experience the benefits of the Hyfrecator first-hand. Feel free to reach out to us for more information or to schedule a consultation.