Discover Keravive Scalp Treatment by HydraFacial
Elevate Your Scalp and Hair Health
Discover Keravive Scalp Treatment by HydraFacial: Elevate Your Scalp and Hair Health
Welcome to the world of Keravive Scalp Treatment, a revolutionary solution designed to transform the health and appearance of your scalp and hair. Developed by HydraFacial, a trusted name in advanced skincare, Keravive offers a comprehensive approach to scalp wellness for a fuller, healthier head of hair.
WHY CHOOSE KERAVIVE SCALP TREATMENT?

Advanced Technology

Keravive combines state-of-the-art technology with proven ingredients to deliver a rejuvenating scalp treatment. It utilises HydraFacial's expertise in skincare to enhance your scalp's overall health.

Nourishment

Just like your skin, your scalp needs proper care and nourishment to thrive. Keravive provides essential nutrients, hydration, and revitalising peptides to help you achieve a healthier scalp.

Customised Solutions

Your scalp is unique, and so are your hair concerns. Keravive offers customisable treatment options to address specific issues such as dryness, oiliness, flakiness, and hair thinning.

WHAT ARE THE BENEFITS?

Improved Scalp Health

Keravive helps balance the scalp's natural oils, reduce dryness, and alleviate irritation, promoting a healthier foundation for hair growth.

Enhanced Hair Quality

With regular treatments, you can expect improved hair thickness, strength, and overall texture.



Thinning Hair Solutions

Keravive Scalp Treatment is an excellent choice for those experiencing hair thinning or loss. It aims to revitalise dormant hair follicles and stimulate new growth.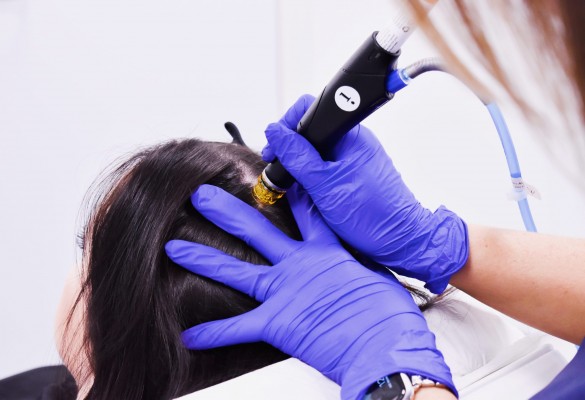 Your Path to Vibrant, Healthy Hair
At Temple Clinic, we believe in providing you with a personalised, comprehensive approach to hair restoration. Our experienced professionals will assess your condition, discuss your objectives, and create a treatment plan that leverages the benefits of Keravive, PRP therapy, Polynucleotides, and other suitable treatments. We can also advise on appropriate supplements.
Don't let hair and scalp concerns hold you back from the confidence and satisfaction you deserve! Contact us today to schedule a consultation and let us help you embark on your journey to vibrant, healthy hair with the winning combination of Keravive, PRP therapy, and tailored solutions.
Unlock the potential of your hair, one step at a time, with Temple Clinic.